THE NURSERY
We are busy lifting bulbs for the spring despatch period.  Our Nerine collections is increasing rapidly.
Things to do
1.Remember to cut off all the leaves on the Helleborus orientalis. This will keep the plants free of botrytis and stop the mice eating out the buds! New leaves will form in the spring.
2.Make sure that the emerging shoots of snowdrops are not swamped by neighbouring plants or a soggy blanket of leaves.
3. Agapanthus in pots and gardens can be split during the late autumn or early spring. Mulch newly planted ones in very cold weather.
4. Some bulbs in pots can be planted out in the garden – daffodils, anemones, crocus, hyacinths and muscari will all recover and do well in the open garden. Tulips are unlikely to flower well a second season so remember to order your fresh bulbs soon..
5. It is best to leave daffodils in grass to die back for at least 6 weeks after the flowers fade before cutting the grass.
6 Make a list of varieties and  take photographs of where you want to plant bulbs next autumn. It saves a lot of remembering!
7. Hellebore orientalis (Lenten Rose) makes new leaves each year. It is best remove the old ones in December to reduce the risk of fungal infection and so the flowers can be appreciated better.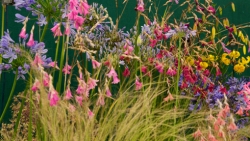 In the News
Our spring flowering bulbs like tulips will now be posted by another firm and enquiries regarding these orders should be addressed to them   broadleigh@dejager.co.uk    01622 845990
Our fabulous white primrose 'Taigetos'  got the recognition it richly deserved and was unanimously awarded the Award of Garden Merit (AGM) at the London show. Now is the time to order this superb plant.
Christine Skelmersdale is a well known and inspirational lecturer and   accompanied an RHS Cruise in May 2016 on the Minerva Swan Hellenic cruise – Glorious Gardens and the Chelsea Flower Show. For more details visit www.swanhellenic.com