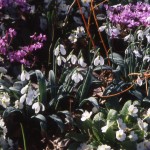 WINTER    
The garden is gradually going white as the snowdrops rush into flower. They are joined by early crocus and the first anemones and eranthis. Our award winning Primula 'Taigetos' is really doing its stuff and the Camelias are starting to flower. The display will only get better. Do call and help a very worthy cause.
In the nursery we have finished lifting and dividing Agapanthus, crocosmia etc for the spring catalogue. We will start despatch of these in mid February. Our large stock of the winter iris stylosa is flowering madly, frost permitting.
We are open every weekday 9-4pm £2.50 donation each for St Margaret's (Somerset) Hospice.