There is still much to see.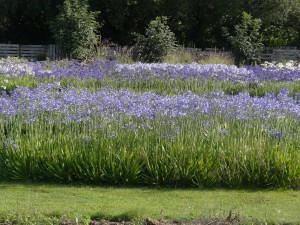 The nursery –
The exotic and well named pineapples flowers – Eucomis – are in full splendid flower in the frame yard. The Agapanthus and crocosmiain the field are still showing colour. We are pleased that one of our late flowering stalwarts – Agapanthus dyeri or more correctly A. inapurtus ssp intermedius has been given the much more user friendly and descriptive name of 'August Bells' and is living up to its new name.
There is a hint of autumn in the garden as the trees respond to the stress of the long hot, dry summer but most have survived, only shedding a few leaves and the first colchicum flowers have appeared. In the garden the late summer herbaceous are filling the borders with colour and the dahlias are better than ever. At last we have a green grass again!!
We are still working on our new S African display bed to house a collection of Agapanthus, kniphofias, gladiolus, nerines, eucomis etc etc. but the replanted rock garden is settling well with a fine display of Californian poppies.
Do call in and help a very worthy cause. We have now broken the £5k mark!! Thank you so much!
We are open every weekday 9-4pm £2.50 donation each for St Margaret's (Somerset) Hospice.