Spring seems to be springing at Broadleigh ; the garden is a carpet of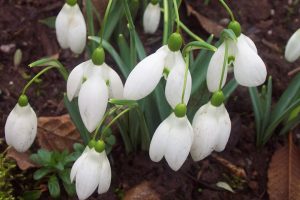 white with thousands of snowdrops in the wild garden along with the delicate purple Crocus tommassinianus Whitewell Purple. There are over 80 special snowdrops in the shrub beds.
The hellebores are rushing into flower along with aconites and the early daffodils already in flower – Rijnveldts Early Sensation started at Christmas and has been joined by Spring Dawn and the first of February Gold. Cyclamen coum are spreading round the garden with their cheerful tubby flowers in shade of pink and white under many trees
The camellias are starting and there is the heady scent of daphne and sarcoccoca.
We are still working on our new S African display bed to house a collection of Agapanthus, kniphofias, gladiolus, nerines, eucomis etc etc. but the replanted rock garden is settling well with the winter iris starting and buds on the baby daffs.
The nursery –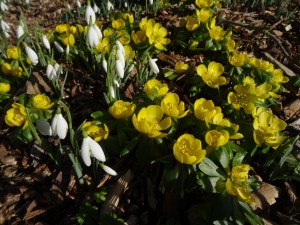 We have finished lifting the crocosmia, agapanthus and eucomis ready for the spring sales. Many of the crocosmia are going to Wisley for the new Crocosmia trial. We started the packing .
Do call in and help a very worthy cause. We have now broken the £5k mark!! Thank you so much!
We are open every weekday 9-4pm £2.50 donation each for St Margaret's (Somerset) Hospice.