SUMMER – Agapanthus heaven!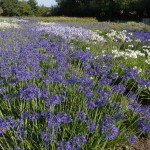 The garden is moving into high summer with lots of colour in the borders and the hydrangeas starting their display.
The display will only get better. Do call and help a very worthy cause. We have now broken the £5k mark!! Thank you so much!
In the nursery the Agapanthus field is overwhelming – a veritable sea on blue and white. Do come and see them. The crocosmia collection is starting with Pauls Best Yellow and the dramatic Hell Fire in full flower already. The first of the Eucomis – Pineapple lilies – will soon be flowering. The alliums, colchicums and daffodils have been harvested ready for posting in August – September. See our Special Bulbs List if you have not ordered yet.
We are open every weekday 9-4pm £2.50 donation each for St Margaret's (Somerset) Hospice.