WINTER
The first snowdrops are already in flower –
'Athenae' on 1st No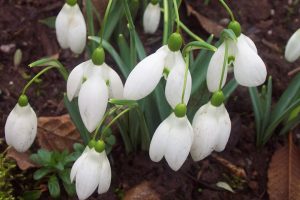 v followed by 'Earliest of All' two weeks later. We are busy removing all the old leaves from the hellebores so we have an unimpeded display in the spring. We will then mulch the bed with our own chippings which helps keep the weeds down and feeds the bed as well.
We have planted hundreds of tulips in the herbaceous borders which then have a 2″ mulch of our own compost added to deter the squirrels. Next we will plant up the pots for the terrace display.
The nursery –
We have finished lifting the crocosmia and eucomis ready for the spring sales. many of the crocosmia are going to Wisley for the new Crocosmia trial.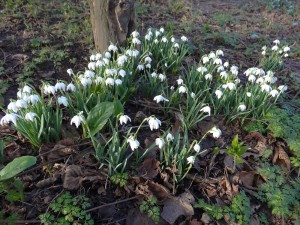 We are now starting on the agapanthus.
We are still working on our new S African display bed to house a collection of Agapanthus, kniphofias, gladiolus, nerines, eucomis etc etc. but the replanted rock garden is settling well with a fine display of Californian poppies.
Do call in and help a very worthy cause. We have now broken the £5k mark!! Thank you so much!
We are open every weekday 9-4pm £2.50 donation each for St Margaret's (Somerset) Hospice.