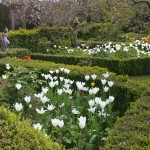 SPRING
The hundreds of tulips planted throughout the garden are at their very best, especially the remarkable Multifora tulips which change colour almost daily.. The Chinese handerkerchief tree Davidia is a mass of white – the handerkerchief – like bracts behind the flowers almost smothering the leaves. The golden magnolia is in full flower as are the Cornus. The alliums are gradually replacing the tulips in the borders.
The display will only get better. Do call and help a very worthy cause. We have now broken the £5k mark!! Thank you so much!
In the nursery we have stopped sending out parcels from the Spring catalogue and are busy planting back the summer flowering bulbs -lilies, gladiolus, nerines ready for the summer display. Now the first of our large species peony collection are flowering and our large dwarf bearded iris collection is spectacular.
We are open every weekday 9-4pm £2.50 donation each for St Margaret's (Somerset) Hospice.