What a stunning spring it is. The blossom is the best ever and under the cherries a carpet of spring bulbs including Cyclamen repandum. The garden is full of bulbs.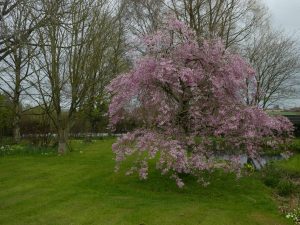 Elsewhere the tulips are fantastic, whether on the rock bank with its hundreds of T saxatilis , in the post on the terrace or in the borders.
In the wild garden the crocus and snowdrops have been replaced by a sea of the glistening white N Actaea.
The camellias are still in flower and have been joined by the amelanchia and forsythia. A veritable parade of colour.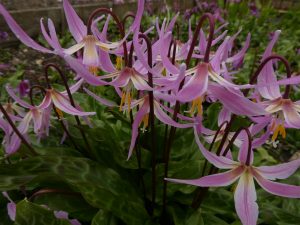 We are still working on our new S African display bed to house a collection of Agapanthus, kniphofias, gladiolus, nerines, eucomis etc etc. but the replanted rock garden is settling well with masses of baby daffs and species tulips among the alpines.
The nursery –
We are busy splitting the agapanthus and replanting the summer flowering bulbs. The erythroniums and wood anemones are giving a wonderful display and the species peonies are full pf fat promising buds.
Do call in and help a very worthy cause. We have now broken the £5k mark!! Thank you so much!
We are open every weekday 9-4pm £2.50 donation each for St Margaret's (Somerset) Hospice.