The roses are loving the damp after last summer's heat and are flowering better than ever, The lillies are starting – L.szovitsianum has 6 glorious golden flowers. The martagons seed around here and are just starting their display. They will be followed by L pardalinum and many hybrids. !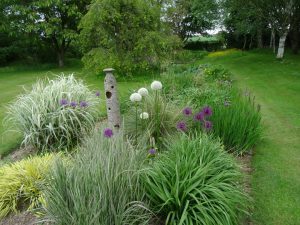 The Hot bed is starting its display with rich orange calendula, scarlet geum and stunning double scarlet opium poppies. The spikes of tall white foxgloves are dotted about.
The yellow magnolia and the cornus are flowering as are the Styrax and the first flowers are opening on the spectacular peony Bardzilla.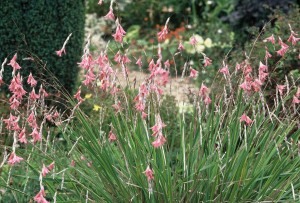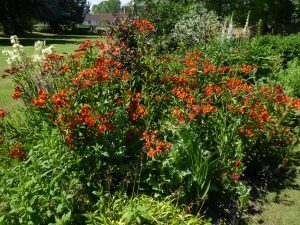 Our new S African display bed, housing a collection of Agapanthus, kniphofias, gladiolus, nerines, eucomis etc etc is settling in well with exciting buds appearing on the Agapanthus.
The nursery –
We are busy weeding and watering. The sibirican iris are magnificent. The large stocks of the fabulous Dierama – the aptly named Angel's Fishing Rod or wand flower are starting their display
Do call in and help a very worthy cause. We have now broken the £5k mark!! Thank you so much!
We are open every weekday 9-4pm £2.50 donation each for St Margaret's (Somerset) Hospice.