June-July
As the countrywide lock down eases the garden is open to visitors and is bursting with flowers. As ever there is an endless round of weeding.
The roses and clematis are the best ever. The alliums have been fantastic in the border and now the Alstroemerias are filling them with colour mixed with the spectacular double red poppy.
The new S.African bed is bursting with colour with plenty more to come.
The new autumn catalogue has gone out and in it some of the new patio pots we designed this spring. See it all online
The nursery – Gone fishing!!
Our extensive collection of Dieramas – or Angels Fishing Rods – in all shades of pink and terracotta are in full flower, their wonderful arched stems waving in the breeze.
Work has continued as normal – plenty of space to socially distance etc. All the large sibirican iris collection has been moved to their new home, the eucomis, nerines and roscoea planted out.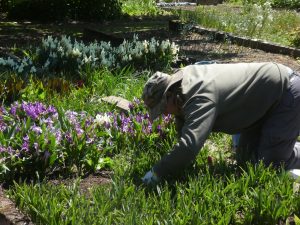 The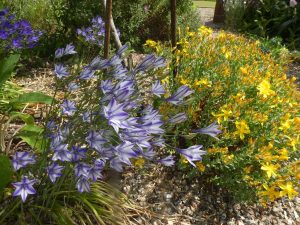 Roscoeas are in full flowers
Weeding and watering the main jobs now.
Do look at our New Look Online Store, there are lots of ideas for plant combinations and some new patio Pot collections as well.