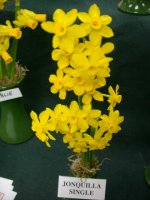 Narcissus jonquilla

Scent must be the first thing to spring to mind when the name jonquil is mentioned. The well known late flowering Narcissus jonquilla, with up to 4 small bright golden yellow flowers is understandably a garden favourite. Jonquil hybrids also have a long history. The cross between Narcissus jonquilla and Narcissus pseudonarcissus – Narcissus odorus has been in cultivation for at least 300 years.
Division 7 however encompasses a much wider and rather disparate group of plants. Even the official classification is very broad. They can vary from tiny, near species hybrids only 7cm tall to stately plants some 50cm tall, and by no means all are scented. Generally speaking they tend to have rather flat flowers with small cups, often with two or more flowers per stem. Jonquil hybrids can be broadly divided into 3, each having its own specific cultural requirements.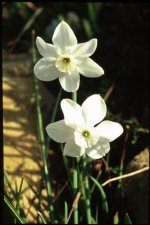 Narcissus Xit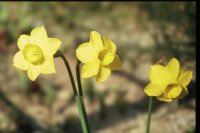 Narcissus Pequenita

The smallest hybrids always cause the most interest on the show bench but are really too fragile, and in some cases too tender for the open garden. We used to grow the exquisite 'Pequenita' in the troughs with the rest of our miniature collection. For many years we attempted to maintain stocks until we gave up the unequal struggle and in desperation moved it into a poly tunnel. It has subsequently thrived in the warmer and much drier conditions. Other similar hybrids, especially 'Xit', 'Sabrosa' and 'Moncorvo' which have the tiny white Moroccan Narcissus watieri as one parent also prefer this more sheltered existence.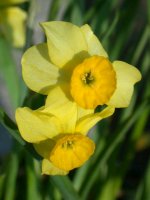 Narcissus Sundial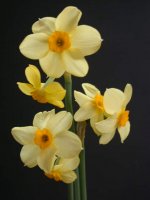 Narcissus Bobbysoxer

The next group are only slightly taller but have a single species parent rather than both. This makes them much more robust and eminently suitable for outdoor cultivation. Sadly they have not inherited the fragrance gene but then you can't have everything. Delicacy and grace more than make up for it. They need a well drained soil, preferably limy, in full sun and are excellent subjects for the rock garden. 'Sundial', 'Sundisc', 'Clare' and 'Rikki' are all reliable hybrids with tiny 2cm flowers in shades of yellow on stiff stems. Slightly larger, but by no means too tall for the rock garden or raised bed, are 'Lintie', 'Bobbysoxer', and the multi-headed 'Desert Bells'. They are in keeping with the more robust alpine plants or can be planted out at the front of a sunny border. All dislike cold, waterlogged soils.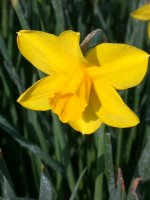 Narcissus Sweetness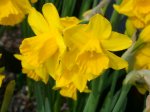 Narcissus Quail

The final group contains the tall jonquil hybrids. These are very varied in appearance and cover the whole range of colour combinations. Most are the result of crossing Narcissus jonquilla with a standard daffodil. They are among the best garden plants, coupling scent with vigour. They have very stiff, sturdy stems and stand up well to bad weather. The oldest hybrids are self-coloured such as the lemon, twin headed 'Trevithian' which is also excellent for naturalising. Other reliable and recommended yellow jonquils are the strongly scented 'Sweetness' and 'Quail'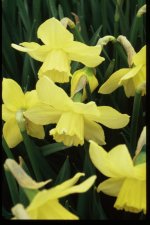 Narcissus Binkie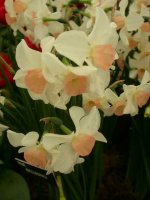 Narcissus Bellsong

Narcissus 'Binkie' (division2) has produced some excellent reversed bi-colour offspring. 'Pipit', 'Dickcissel', 'Verdin' and 'Chit Chat' all have 1 or 2 flowers with a cream perianth and lemon cup. They make excellent cut flowers. Among the most dramatic of the hybrids are the red cupped 'Suzy' and 'Sweet Pepper' where the fiery cup contrasts dramatically with the strong yellow perianth. As yet there is not a pure white tall jonquil, the nearest being the creamy 'Pueblo' , twin headed 'Nancegollen' and the pink tinged 'Cherie'. In 'Bellsong' the cup is a true pink.
Although Division 7 is probably the most varied in appearance it contains some of the best garden plants
Daffodils are available between May and November from our Autumn Catalogue - See Online Store for availability