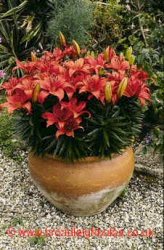 A recent questionnaire among Garden Centre visitors revealed that lilies are now the most popular plant. This is certainly borne out by our experience as they are one of our most popular lines.
Many lilies are excellent for pots, either for the patio or they can be plunged in the border. This is especially useful for those that have special soil requirements. Many lilies are very fragrant – see also Casablanca, Star Gazer, Apollo
Lilies are available in the Spring Catalogue where you can see pictures – visit our Online Store Lily Page for current availability.
Lilies are a very versatile bulb, suitable for most situations, provided a few simple rules are followed:


Use compost /soil suitable for the variety – some are calcifuge and need an acid soil (see full description) others are not fussy
All lilies like a rich, fertile soil. Feed with a low nitrogen fertiliser, especially after flowering to build up the new bulb, and water regularly- uneven watering is the usual cause of failure to flower. This is also necessary in the open garden in dry weather
Ensure good drainage or the bulbs might rot in the winter. Add crocks to your pot or plant the bulbs on a handful of gravel if you have a heavy soil.
Most lilies prefer a cool root run but like their heads in the sun. Move pots that have finished flowering into a shaded place and continue to water and feed.
Plant lilies with at least 5″ of soil above the bulb which means a LARGE pot if you are using one.
Keep a look out for the red lily beetle. This does no harm but its disgusting grubs can eat all the leaves in a few days. Either pick them off by hand or use a recommended spray to control them.
Soak the lily bulbs over night in cold water before planting them if they look a little soft.
Lilies can be planted from late autumn to early spring.
Lilies are available in the Spring Catalogue where you can see pictures of them or see our Online Store for current availability.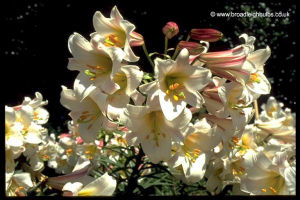 The tall Trumpet lilies are easy to grow in any soil and very fragrant. They are excellent in borders or large tubs – See Regale, African Queen, Pink Perfection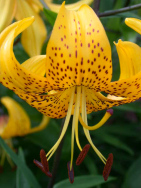 Some lilies prefer to be grown among trees & shrubs. This is especially true of those with turk's cap flowers. See also martagon, lancifolium (Tiger lily), pardalinum
Liliy Gardens to visit
To see lilies in a wonderful Northampton woodland setting visit Evenley Wood Garden. See www.evenleywoodgarden.co.uk for opening times.
The RHS gardens at Wisley, Surrey have a good range of lilies.