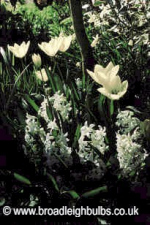 Serendipity must happen more often in the word of gardening than anywhere else, and like all the best discoveries this one also happened by chance. When I first planted our new garden it was natural to add a collection of bulbs to the fledgling herbaceous border. Tulipa fosteriana 'Purissima' or 'White Emperor' as it was known then, was the only possibility. Although it is considerably taller than our usual selection of dwarf species tulips it had been included with the rest of the fosteriana cvs for completeness, and was the only candidate in our catalogue tall enough for the middle of the border. It was a sure-fire winner, rising majestically up above the emerging foliage of the herbaceous plants. Later that spring I also saw it used to great effect in the silver garden at Tintinhull House where the combination of grey foliage and creamy white tulips is magical. From that time on 'Purissima' was guaranteed a place in my garden.
Tulipa fosteriana itself comes from that legendary area around Samarkand. and reached the west at the beginning of the 20th century. Its potential as a reliable garden plant was soon recognised and by the middle of that century a whole range of cultivars and hybrids were available. All are characterised by large flowers on stiff stems above very broad, usually grey-green leaves. They are early flowering, at the end of March here in Somerset, and are remarkably long lasting. On our light sandy soil tulips tend to be rather ephemeral, only lasting a couple of years unless they are lifted after flowering. In contrast T. 'Purissima' has proved itself reasonably long lived- a tremendous bonus to a busy gardener with insufficient time to lift all the tulips every year. I must admit that in those years I do cheat and add a few new bulbs to ensure a good display.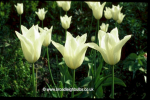 The very large, rounded flowers open a glorious shade of pale primrose and gradually fade through a rich clotted cream to pure white. They are also surprisingly weather tolerant, surviving all but the worst gales. Rather than dot them through the border I prefer either to plant repeated clumps through the main border or to blanket a bed with them, as is the case with our parterre. Here I have my collection of species peonies and I needed interest earlier in the spring. The creamy flowers of Purissima are a perfect choice, floating like a cloud of butterflies above the deep, rather sombre green of the box hedges. We now follow them by the lily flowered Tulipa.'White Triumphator' in the other bed which extends the display into April.
One of my most successful plant associations came about by accident. Mixed or herbaceous borders always suffer from the recurring problem of where to squeeze in the bulbs. Not only is there physically little room between the exuberant clumps when you need to plant the bulbs, it is also very difficult to actually spot the gaps that were so glaring in the spring. I do try and make notes but this does not always happen and in sheer desperation one year, I was determined that I was going to use all the bulbs designated for the spring display, I dug two large, 8″dep holes. The 'Purissima' bulbs went in the bottom, followed by a light covering of soil then about 6 bulbs of Hyacinthus 'Carnegie' were placed on top and the holes filled in. Neither variety seemed to mind their proximity and the following spring the pure white hyacinths formed a lovely, scented base for the tulips. I often repeat this combination, varying it slightly by adding the creamy yellow H. 'City of Haarlem' instead. It also has the added advantage that the hyacinths continue flowering as the tulips fade.
Tulip 'Purissima' is not only excellent in borders it is also a perfect choice for traditional bedding schemes, mixed with winter flowering pansies. As the tulips are early flowering the pansies still look good, rather than past their best as is so often the case with this combination.

I also use the tulip/pansy combination in containers. At 45cm Tulip 'Purissima' is relatively tall but its stems are strong and the handsome grey leaves are an added attraction. You could also try the hyacinth/tulip combination in larger containers. For those who prefer brighter, mixed colour plantings, there are other Tulip fosteriana hybrids that flower at the same time. Tulip 'Sweetheart' is lemon with a white edge while Tulip 'Madame Lefeber' ( 'Red Emperor') is a glistening scarlet.
All in all T. 'Purissima' really is an excellent all rounder.
This article appeared in BBC Gardeners World
We sell Tulips in the autumn. See our Online Store for current availability of this and other tulips.