We have 2 despatch seasons – Spring and Autumn.
1. Spring Catalogue (January) covers items posted in Feb – April (snowdrops,agapanthus, lilies, hellebores and herbaceous perennials) Order these items from our online store when it opens in December. These are posted from Taunton.
2. Autumn Catalogue (June) lists items posted in Sept-Nov (spring flowering bulbs).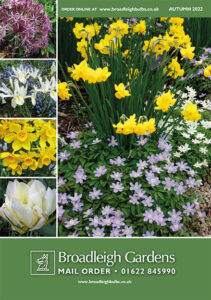 This includes our main range of tulips and other spring flowering bulbs. Order now direct from our user friendly Online Store. These will be posted from Kent.
Click to download the autumn catalogue
Or you can order a paper copy now:
Special items will continue to be offered from here in Somerset. Tulip sprengeri, species daffodils, PC Iris etc. These can only be ordered online, Stocks are limited. See our Special Bulbs List