THE NURSERY
We are busy preparing for the spring despatch : dividing agapanthus, crocosmia nerines etc.
Things to do
Cut off the old leaves on Hellebore orientalis – not only do they harbour infection they make a good hiding place for mice who can then feed on the fat flower buds. The leaves can also swamp emerging snowdrops.
2. Mulch overwintering plants like agapanthus with leaves etc.
3. Remember that even if it has rained potted bulbs will need watering once they start growing.
4. In periods of severe frost bring pots of agapanthus under cover for wrap well as the frost can kill the roots.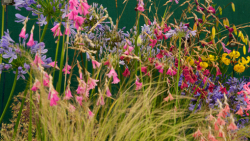 In the News
Our spring catalogue will be sent out in January and orders are sent from Taunton from late January to early April.
Our spring flowering bulbs like tulips will now be posted by another firm and enquiries regarding these orders should be addressed to them broadleigh@dejager.co.uk 01622 845990.
Bulbs from our Alec Gray collection of miniature daffodils and other rare bulbs will be posted from here in August/Sept. See Special Bulbs list for these.
Christine Skelmersdale is a well known and inspirational lecturer .